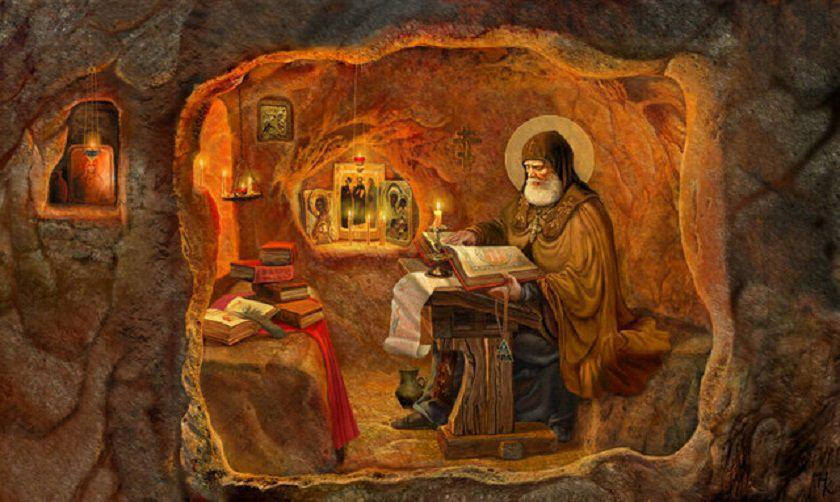 Many people talk about humility, many people talk about freedom, but very few understand that these two are the same thing.
I did not propose to make a prayerful translation of St. Ephraim's prayer, but I will use it because it is the most representative and most famous of the nine Christians today. Even to those who do not have a rich culture, as far as Father's writings on humbleness are concerned, we all know this prayer, because it is read throughout the Great Controversy. So, I'll use it for her.
We have said humility and freedom, because this is our entire life. We are all called to freedom. For a contemporary man who is urged and driven to freedom by all the posters he sees, the programs and the commercials on the radio or TV, humility is a repulsive thing, it is something that prevents him from being free, or little reminds him that he does not do the right thing.
And yet, we Christians are called to freedom. Everything we see on the street, everything we hear is a parody of true calling and true freedom.
We are called to freedom and are called to humility. The Apostle John says, "Know the truth and the truth will make you free." Christ says, "Learn from Me, that I am gentle and humble with heart, and that you will find the rest of your souls." From this we see that in the Gospel humility and freedom, not only do not contradict each other, they are the same, although freedom is more than humility.
We are called to freedom by humility. But true freedom we will know only after we know the true humility after the direction will free us. And freedom will not be the freedom that we are or where we are urged into the street, but it will be the freedom that the truth gives us, the Truth which is Christ itself; the freedom that we will have in the face and more perfect on the unbounded day of His kingdom.
What do we mean when we hear humility? Especially for a young man, this has nothing to do with it. It generally means a defeat, but not a good defeat, a quit for most. To be humble means to give up life, to give up fighting. "Great to be humbled when there are so many problems in the world when there are so many unresolved things! We humble ourselves, we leave our hands down and we do nothing!" That's how people humiliated humility.
We Romans have the term, the word "humility" in Slavon. "Mera" means measure, and "humble" – means to bring in. "To humiliate yourself" means to be able to come back, to become what you are. In other words, to be humble is to know the truth about yourself, to know your measure, to be realistic.
And what is our measure? Our measure is death. After weaving the command of God, after we have separated from God, we have dressed in the curse that God spoke to Adam before sinning. "Do not eat here, because if you do that by death you will die." So, we are all mortals today and this is the truth about us, our measure is death. If God had not come, if Christ the Savior had not come to us to bring us out of death, the dead would be forever. Knowing the truth about us is conscious of this. Humiliating us means knowing who we are. Whoever knows who he is – and he is dead, mortal – realizes that he needs a Savior. He knows that he himself is unable to get out of death, to get out of suffering, to come out of pain, to come out of loneliness, to the state we all live, even to those who challenge us to freedom by their posters, but not to us we can solve them. We can not solve them by the freedom we propose.
What does it mean to be free? it means you can be yourself anywhere and anytime, it means you can be yourself no matter what is around you, the outside factors. Nothing outside can shield your freedom. When your freedom depends on some outer things, how can you call yourself free? Yes, we say, high school junior, I'm free and I want to go to sea. To be free means to fulfill this desire. If your dad does not take your salary, you can not go to sea. Understand? I said a parable we can follow. It's trivial, but that's how we understand our freedom. I'm free if I can do this or that. But there are plenty of external factors that do not depend on you and that if you do not do it you can not live your freedom, it means you are not free. Well, we have the Holy Martyrs who were free and when they were chained, and when they were beaten, and when they were put to death, in the Lion Pit. They were living full freedom and this is not a metaphorical freedom. Truly their soul was free and they lived full and complete.
So, true freedom is: you can be yourself anywhere, anytime. But it can not be reached through the lie. We can not live in illusions, because the illusion sooner or later is shattered, "is scattered like the dream of the wise," as David says. And then what will our free will use. When we discover that everything has been a great deception. Serenity is what awakens us from our dream. It is painful at first, it repels our nature. In front of her we turn back, because it is hard for man to discover the truth about himself. It is frightening to discover that you are nothing, even though we are called to be like God. So humility releases us, the truth frees us. Humility is the first step of the road to truth, to freedom. Now I want to see how Saint Ephrem Sirus understands, as we understand, the Church, because through St. Ephraim Sirus, the Holy Spirit puts in our hearts the necessary steps that must go through our souls until release. There is still no freedom in St. Ephraim's prayer, but it frees us. The prayer of St. Ephraim is for the people still unfettered, so I, perhaps, many of this room. I'd like everyone to be free. It is for people who have not yet freed themselves from sin, sin. She, if you want, is a variation of the royal prayer, of our Father's prayer, for those who have not yet begun. Our Father's prayer, Christ has given to those who were born to Him.
But as long as we are not infected, we can not call God, Father. As long as we are in sin, as long as we are committed to our passions, our passions and sins are our "father" and we call him "father". But God can not tell Father. It is quake. In a hymn of Saint Simeon, the New Theologian, in which the saint has the revelation and Christ himself speaks of the priesthood, of priests, of the high priest, says, "O you who dared to stand before my sacrifice because I am merciful, for I am patient, who are not called, have entered here, who are not yet sons, yet who have not yet wiped you out of captivity, have entered into the inmates as sons. " So, in order not to hear these words on the day of Judgment in Christ, St. Ephraim proposes this prayer. We also know from the Gospel that Christ after all, many will say, "Depart from me those who have done the wrongdoing, I will not know you." Not to hear these words, St. Ephraim gives us a prayer that will prepare us for our Father's prayer. It is the same prayer, so I understood it, but for the uninfined.
What does Christ say, how to pray? "Our Father Who Are in Heaven". But St. Ephraim does not dare to call God, Father. He says, "Lord and Master of my life." Anyone can call God, Lord and Master of his life, even the most sinful. He who is in all the filth and in the depths of his passions can not call God the Father because he does not give him the Spirit, being awake but confessing God, Lord and Master of his life. And by this he frees himself from all the other gentlemen and masters who try to master us, and the unclean spirits, but also the passions. And he says, "My Lord and Master of my life, the spirit of tranquility, the care of many, the love of dominion, and the love of desert, do not give it to me." He does not ask for "to live Your kingdom." Because asking to live the kingdom of God is to say that you are ready to receive it, it means you are ready for it, for the coming of the kingdom of God is the end of the world, it is the time of judgment, and only the infected son, the redeemed in the heart of which the Spirit confessed salvation, as Saint Paul Apostle says, only he can call the kingdom of God and God, Father. But St. Ephraim does not do that. He says before your kingdom comes: "Take from me the spirit of tranceavia, the care of many …"
All this demand has "redeems us from the wicked one," but Saint Ephraim brings us a few ways in which the wily tempts us. But by this request, St. Ephraim also makes a confession. That is why we ease ourselves when we say this prayer when we say, "The spirit of the trance, the care of many, the love of dominion, and of the desertion, do not give it to me." By this I confess that I have, that I am ruled by them. Do not give it to me, that's it and take it from me. Because if I had not had them where I would have known they were, they exist. But by calling them and asking them to take them from me, I confess I am ruled by them. Brother Ephrem confesses God not only Lord and Master of his life, but also Lord and Master of all these spirits, whom God is able and powerful to take from Him, Lord and Master, all gifts. "The Spirit of Curation, of Humble Thought, of Patience, and of love, give It to me Your servant, "says St. Ephraim that no one can agonize any of these gifts with his powers, for he will not receive them from God. Even more so:" So, Lord, rulers, give me to I see my mistakes and do not blame my brother. "How does the same thing in our Father:" And we forgive our new mistakes, and we pardon our mistakes.
"But St. Ephrama shows us actively how we get to this state , to forgive the mistakes of the brother through the sight of his own mistakes. The Ephraim spins to us what Christ shows us in our Father's prayer and shows us how we can get to be judged, to be forgiven of God as we forgive But as we forgive, we can not forgive our neighbor, nor can anyone forgive his neighbor, but this view can only be seen by God, but only by the Holy Spirit man discovers what he is: Saint John Scarar says: as by one the cracked roof, the ray of light discovers all the impurities, the dust that floats in the air, until then unseen, so the search of the Holy Spirit in the heart of man reveals its rages, passions and madness. All these are gifts of the Holy Spirit. This is the confession that we must do before we can appoint God the Father and before boldly call upon his kingdom. Because this Father's prayer is a bold prayer. It is a great boldness to call God the Father, to reckon on you son and to call upon His kingdom. Because of this in the Liturgy, before the prayer of our Father, the priest says:
"And we invite our Master, with daring, without blame, to boldly call upon You, the heavenly God, Father and to say." To call the heavenly God, Dad, is bold and can bring about a crime, we are witnessing in the Liturgy. That is why the wonderful Ephraim's prayer is wonderful. It is our Father's prayer, for those who are not yet sons, for those who are still robbed of sin. We must remember that we are – although redeemed through the Blood of Christ, although cleansed and washed by Baptism – yet returned to our sins before, and stretched in our thoughts and in our judgments and in all our works.
Father Savatie Bastovoi